Luis Russell Orchestra_1930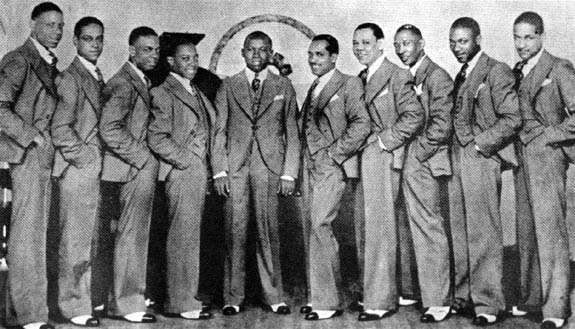 [ Click on the link above for "Saratoga Shout" Luis Russell Orchestra 1930 - Ted Unseth Orchestration ]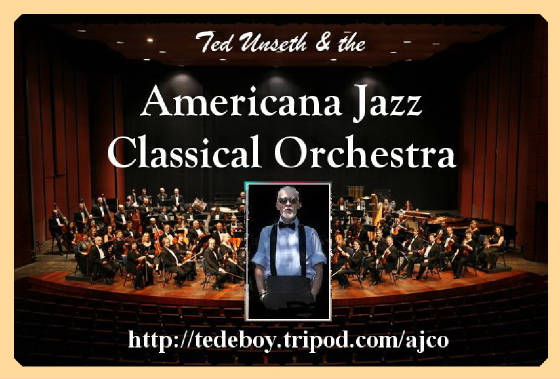 "The demand for old recordings of music in the Hot Style is persistent. And if the Jazz band which really finds in this music an element of art to which it feels a definite response can be looked to for moral support, then we can anticipate the evolution of an even finer Jazz, brought about by composers, arrangers and musicians fired with a new ambition."
Fletcher Henderson, 1939
"Those guys shouldn't be forgotten because if they hadn't scuffled Jazz wouldn't be known today. It hurts me to see guys, fine musicians, walking the streets or working as porters or in mens' rooms. And these young kids... I overheard one of them listening to Henry 'Red' .Allen a little while ago and saying, 'Man, why doesn't that cat give up?' Seems to me they want us to die out... It shouldn't be."
Louis Metcalf, 1969
"The Great Depression of 1929 killed a lot of things, among them Hot Jazz. The big orchestras shrank or broke up, club patronage was down and musicians joined the millions of unemployed. By 1935 the original meaning and sound of Hot Jazz had all but disappeared and the sound of Swing, which replaced it, was largely concocted by Tin Pan .Alley and played by highly-drilled but mechanical orchestras. It had been seventeen years-great years-of creativity and adventure."
Joel Vance, 1974
"Stereo Review"
Click on the Link below for [ACTO] AJCO Prototype MP3s:
----------------------------------------------------
07/30/17
Click on the Lik below for Webpage dedicated to Joshua Bell and Yo Yo Ma:
-----------------------------------------------------------
Attention:
Classical Orchestras
Note-for-note transcriptions of classic Americana/American Jazz Orchestra recordings performed live! and in concert.
This has been the premise of the Americana Classic Jazz Orchestra (ACJO) for more than 40 years. It's a Classical approach to recorded Jazz. This AJCO project takes the Classical approach one step farther--instead of a 12-15 piece Jazz orchestra, these charts have been specially adapted for Classical orchestra.
The challenge for each is to be as note-for-note accurate as possible, especially re: the original solos (by the top artists of their day).
With Jazz players, you get more spontaneity but not always as much finesse. Written original solos have been the biggest challenge and have rarely been played 'flawlessly'--they're quite demanding.
My thoughts turning to a Classical orchestra have me believing that Classical musicians have the highest degree of proficiency and virtuosity: Would it be possible for Classical brass and/or woodwind players to play those solos? Answer: It depends on the ensemble and soloist. Some chamber orchestras have general qualifications, but specialty soloists might not be available. So...
I've created two versions of each selection for the AJCO:
01. Standard Classical instruments
02. Classical ensemble with original Jazz brass and woodwinds
Thus:
I can opt either for all Classical players and be assured their players can handle the difficulty factors; or I can bring in Special Guest Jazz players = a true coming together of Classical and Jazz musicians. Either way, the effect is the same: uniquely creative arrangements and performances via note-for-note performances. Done properly, you can close your eyes and 'be there'.
05/15/12
The ACTO project is based on the 39+ years Ted Unseth has pursued one specific goal:
Note-for-note transcriptions of classic Americana/Jazz Orchestra recordings performed Live! and in concert.

Titled the ACJO (Americana Classic Jazz Orchestra; formerly the Wolverines CJO), it began in 1973 with a group of inexperienced but highly motivated young players attempting to re-create the performances as close to the originals as possible. We didn't have the exact instrumentation, but we had (most) all of the notes.
There have been many changes over the years, but the Philosophy has remained constant throughout: note-for-note accuracy, including (most importantly) the Original Solos.
In the beginning, this 'classical approach' was frowned upon by certain Jazz critics ("it ain't Jazz if it ain't improvised."). But we've proven the efficacy of the project many times over (see: http://tedeboy.tripod.com/acjo). We eventually became accurate in every regard, including all original instrumentation. Times changed, however (players emigrated, etc.) and allowance was made for Bass rather than Tuba and Guitar rather than Banjo (the band was now a Jobbing band), but with all original notes intact.
Transcribing can mean two different things:
01. recording something in a different medium (scoring a recording); but also
02. Adapting the original to different instrumentation.
The great J.S. Bach had no objection to transcribing his works to different instruments, even in different keys; because the genius of the composing is not lost, just transmogrified.
After 38 years pursuing success with the ACJO, it has become obvious that there simply aren't many (any, at this point) paying jobs for this unwieldy (12-14 players) and esoteric (rare selections, no 'standards') group--the quality is high; saleability low (as 1920's Jazzman Mezz Mezzrow would say: "lower than whale poop and that's at the bottom of the sea").
So, my attention has turned, for the first time, to
Classical Orchestras
and adapting some of my Classic Transcriptions for a Classical Orchestra.
Thus, in a matter of a few months, I have compiled a group of these Transcriptions. And the results via my computerized Virtual Orchestra tell me this is absolutely viable and an exciting addition to Classical Orchestra performances.
My premise for this working well is:
I assume Classical Players rarely make mistakes, at least not glaring ones.
Do I assume too much? I'd like to be proven right by Classical Players taking up the considerable challenges (esp. the note-for-note Solos: doable, but requires extra woodshedding).
With the ACJO, much was 'hit and miss', esp. re: solos. Most were not played exactly as written (modified, improvised), which may have been fine in some instances (especially if the player was a real artist at improvisation), but not my druthers.
After scoring AJCO material and hearing it back, I am hearing the original solos exactly as written; sometimes for the first time ever and I'm well pleased.
I have one Classical Orchestra interested already (the Minnesota Sinfonia) and am posting this website to alert all Classical Orchestras:
I am available as a Special Guest:
Orchestrator and Narrator
presenting this special
AJCO Repertoire
Details need to be worked out but, essentially, I bring my suitcase full of scores and parts, we rehearse (parts may be available for study prior to rehearsals, also) and we present a fascinating panoply of Great American Music that has been all but forgotten (one press reviewer described me as a person who finds gems rummaging through America's Musical Wastebaskets--I'll accept that). I suggest a 30-minute (perhaps longer) Presentation inserted into a concert program schedule: "a unique perspective on popular music of the 1920's-1930's--The Jazz Age."
Example:
Can a Harry Carney (legendary Duke Ellington bandmember) Baritone Sax Solo be rendered effectively by a Bassoon? Check out the MP3 below for:
"Stevedore Stomp" 1929
Duke Ellington Orchestra
Ted Unseth, Transcriber/Orchestrator