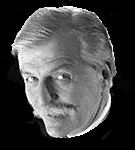 00_Butch Thompson on Ted Unseth
Butch Thompson is one of the world's leading authorities on the Stride Piano style. A regular guest on Garrison Keillor's "A Prairie Home Companion", Butch was a Special Guest for my Americana Classic Jazz Orchestra 20th Anniversary concerts and these comments were made prior to that occasion.

Besides his consummate piano stylings, Butch also plays excellent traditional jazz Clarinet. He is a joy to work with and a wonder to hear.
Paul Whiteman Orchestra_1924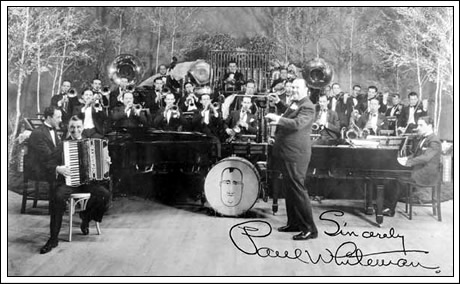 "Fascinatin' Rhythm" Paul Whiteman Orchestra 1924
01_02_Fascinatin_P. Whiteman_Class
01_02_Fascinatin_P Whiteman_Jazz
Paul Whiteman was known by some as "The King Of Jazz". A more appropriate title would be "King Of The Jazz Age". His orchestra was wildly popular in the 1920's-1930's and he hired topnotch arrangers and soloist such as George Gershwin ("Rhapsody In Blue"), Ferde Grofe ("Grand Canyon Suite"), Bix Beiderbecke, Jimmy Dorsey and Bing Crosby.
This transcription is from the very first arrangement and recording of Gershwin's "Fascinatin' Rhythm" (with Gershwin at the piano). This early 1920's version reflects a syncopated style popular in the day.
Fletcher Henderson Orchestra_1926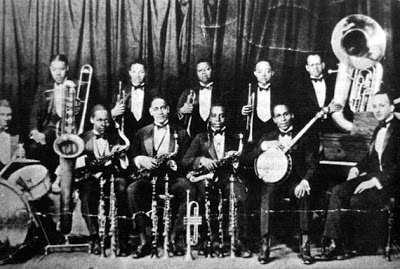 "Why Couldn't It Be Poor Little Me?" Fletcher Henderson Orchestra 1926
02_Why Couldn't_F. Henderson_Class
02_02_Why Couldn't_F Henderson_Jazz
Fletcher Henderson had one of the most revered Jazz Orchestras of the 1920's-1930's. A host of Jazz greats passed through over the years, including Coleman Hawkins (who was with him for 11 years) and a young Louis Armstrong.
The recording was made in a mid-'20's style, not yet as sophisticated as later '20's arrangements, but notable for the note-for-note trumpet solo by Armstrong. The contrapuntality of the last section is quite remarkable.
Trumpet Solo: Louis Armstrong
Clarence Williams Orchestra_1927
"Bozo" Clarence Williams Orchestra 1927
Clarence Williams "the First": he was the grandfather of TV and film star, Clarence Williams III. Active on the Chicago Jazz scene of the 1920's, he was a pianist, composer, arranger, publisher, theatrical producer and music store owner. Known primarily for his small band ensembles, he expanded to a mid-size jazz orchestra in the late '20's and produced some fine recordings of his original arrangements.
This track, "Bozo", was based on a popular published chart. Compare this version with the next selection below: They were both premised on the same basic chart and recorded in the same year, and yet with two completely different, yet special, 'takes' on it.
The contrapuntal tail section is worthy of admiration.

Fletcher Henderson Orchestra_1927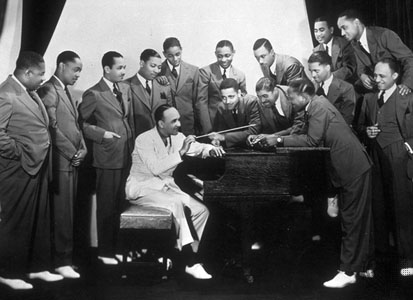 "Tozo" Fletcher Henderson Orchestra 1927
Many of the Fletcher Henderson arrangements of the 1920's were penned by alto saxophonist/arranger, Don Redman ("The Little Giant of Jazz"). This chart is called "Tozo" here, but is the same basic tune as "Bozo" (see above selection) and features Redman's clever arranging that is touted in Gunther Schuller's "Early Jazz" book for its innovative "3-against-4" section towards the end of the piece.
Clarence Williams Orchestra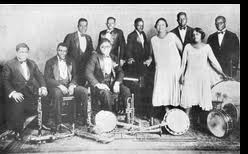 "Beaucoup Jack" Clarence Williams Orchestra 1927
05_01_Beaucoup_C. Williams_Class
05_02_Beraucoup_C Williams_Jazz
Clarence Williams produced an off-Broadway show in the 1920's called "Bottomlands". It was short-lived onstage, but this chart comes from the mid-size band recording session featuring his original arrangements.
Alto Sax Solo: Arville Harris
Cornet Solo: Joe Oliver
Clarinet Solo: Buster Bailey
Duke Ellington Orchestra_1929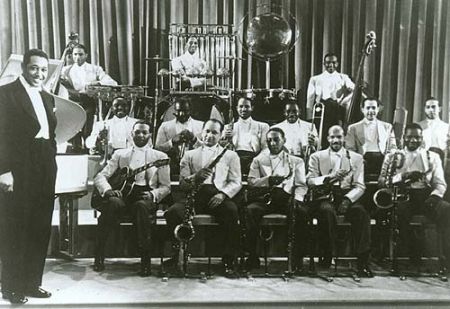 "Stevedore Stomp" Duke Ellington Orchestra 1929
06_01_Stevedore_D. Ellington_Class
06_02_Stevedore_D Ellington_Jazz
06_03_Stevedore_V. as Clt. Solo
Duke Ellington, one of the most recognized and revered Jazz bandleaders of all time. His legacy dates back to the 1920's and you'll find early arrangements as intriguing as any. He always attracted the finest players and arrangers, including legendary trumpeters Bubber Miley and Cootie Williams; Alto Saxophonist Johnny Hodges and Harry Carney on baritone sax.
Luis Russell Orchestra_1930
"Saratoga Shout" Luis Russell Orchestra 1930
07_01_Saratoga_L. Russell_Class
Luis Russell was born in Panama to musically-inclined parents. At age 17, he won a $3,000 lottery and used the money to move to New York City in 1927. He eventually became one of the most famous New York jazz bandleaders. This was his signature tune.
Trombone Solo: J.C. Higginbotham
Alto Sax Solo: Charlie Holmes
Trumpet Solo: Henry 'Red' Allen
Don Redman Orchestra_1931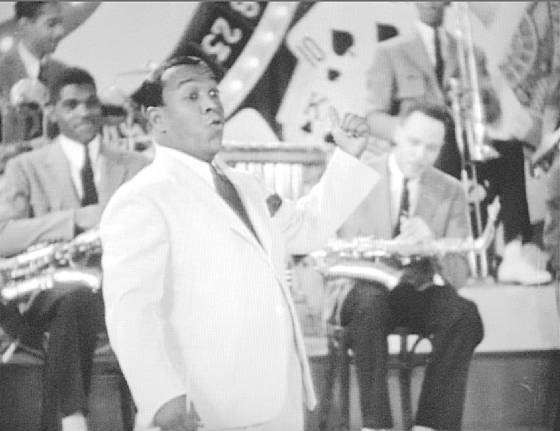 "Shakin' That African' " Don Redman Orchestra 1931
Don Redman, the Little Giant Of Jazz: an innovative arranger who provided much material for the Fletcher Henderson Orchestra of the 1920's. He'd been commissioned by the Paul Whiteman Orchestra to write a 'challenging' orchestration that he called "The Whiteman Stomp". The Whiteman Orchestra featured it prominently; but Don Redman was not allowed to perform his own version of it in public.
Bennie Moten Orchestra_1932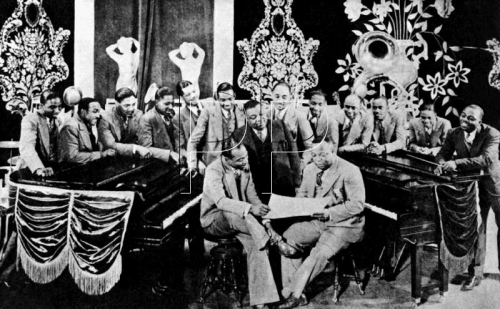 "Toby" Bennie Moten Orchestra 1932
The Bennie Moten Orchestra was early '30's hot property out of Kansas City. A young Bill ("Count") Basie told Bennie he wanted to be his piano player. Bennie said, "But, I'm the piano player." "Well then, get a second piano." After hearing Bill's audition, Mr. Moten did just that (see photo above). This group eventually became the Count Basie Orchestra.
Trumpet Solo: Oran Thaddeus 'Hot Lips' Page
Tenor Sax Solo: Ben 'The Brute' Webster
Clarinet Solo: Eddie Barefield
Piano Solo: Bill 'Count' Basie
Fletcher Henderson Orchestra_1933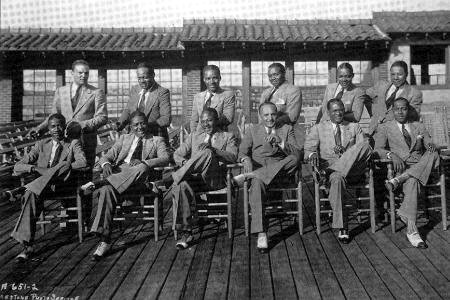 "Yeah Man" Fletcher Henderson Orchestra 1932
10_01_Yeah Man_F. Henderson_Class
10_02_Yeah Man_F Henderson_Jazz
10_03_Yeah Man_V. as Clt. Solo
By the early 1930's, the Fletcher Henderson Orchestra was well established as the winner of most all Battle Of The Bands (two bands playing the same venue, trading 'shots'). Coleman Hawkins said Duke's band sounded great in the studio, but couldn't 'stomp'in person like Fletcher's. The picture above and their music from this period reminds me of a classic Art Deco poster of a sleek locomotive steaming down the tracks.

Jimmie Lunceford Orchestra_1933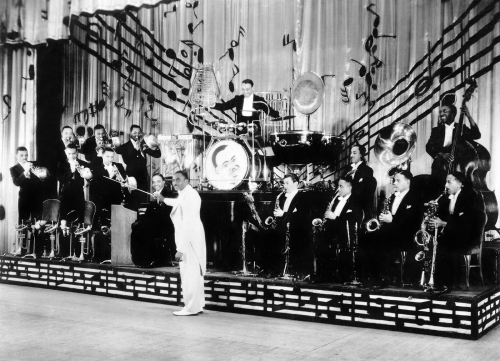 "Flaming Reeds and Screaming Brass" Jimmie Lunceford Orchestra 1933
11_01_Flaming_J. Lunceford_Class
11_02_Flaming_J Lunceford_Jazz
Jimmie Lunceford was originally a high school athletic and band director from Memphis. He organized a band of students (as I did when I formed my Classic Jazz Orchestra in 1973) that eventually became one of the most famous and entertaining Jazz orchestras ever. Innovative arranging, expert soloing and what today we might call gimmicks--showmanship in the form of costumes, vignettes and slapstick. A band unlike any other.
The complete title for this chart is "Flaming Reeds and Screaming Brass"--hot, hot, hot!
John Kirby Sextet_1939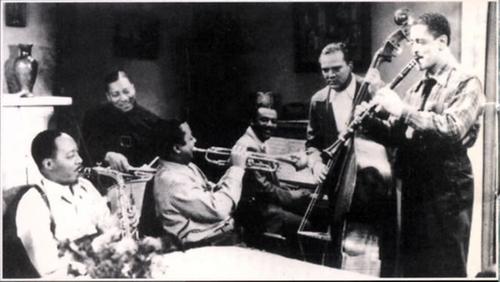 "Beethoven Riffs On" John Kirby Sextet 1939
12_01_Beethoven_J. Kirby_Class
The John Kirby Sextet, aka "The World's Greatest Little Jazz Band". Kirby was a bassist with Fletcher Henderson and eventually formed this fine little group. Trumpeter Charlie Shavers did most of the arranging and several charts were based on famous Classical music motifs; e.g. this one: featuring the main theme of Movement 2 of Beethoven's 7th Symphony.
Clever arranging, deft performance--a classic, historically significant chapter in the Story of Jazz.