[ Note: MP3s--best to right-click the link, choose "open in new window", let it load there and play.
Do the same for PDF files, too. ]
---------------------------------------------
Johann Sebastian Bach
German Lutheran Composer
1685 - 1750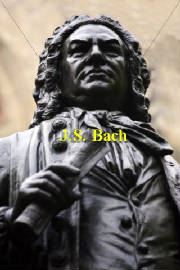 Arnold Schönberg (of 12-tone composing fame) was known to advise his Composition students to consider Melody last, not first; Harmony was the key to great composing. I'm including this J.S. Bach (my absolute all-time favorite Composer) Harmonization of a popular Lutheran Hymn (Chorale) Melody on this site because: 1) it's a prime example of Bach's genius for Harmonic Invention; and 2) I think it's simply Beautiful.
I can almost see the Great Bach, alone in the Organ Loft, composing this on a Saturday afternoon: "Es ist genug." ("It is enough.")
Es Ist Genug
J.S. Bach
1723
German:
Es ist genug!
So nimm, Herr, meinen Geist
zu Zions Geistern hin;
lös auf das Band, das allgemählich reißt;
befreie diesen Sinn,
der sich nach seinem Gotte sehnet,
der täglich klagt und nächtlich thränet:
Es ist genug! Es ist genug!
English:
It is enough!
Therefore, Lord, take my spirit
from here to the spirits of Zion;
undo the ties that gradually are tearing me apart;
set free this mind
that yearns for its God,
that daily laments and nightly weeps:
It is enough! It is enough!
Es Ist Genug_Chamber Choir_MP3
-------------------------------------------
Charles Edward Ives
American Composer
1874 - 1954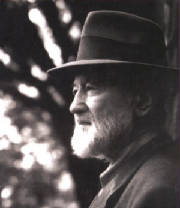 Circus Band
20th Century American composer Charles Ives is one of the most interesting stories in all of music. He, literally, led two lives: 1. Insurance company executive; and 2. Visionary composer. Very few of his compositions were successfully performed while he was alive—they were deemed 'too difficult' or written with 'too many wrong notes' (he once commented to his nephew at a concert where the audience booed his composition: "Are my ears on wrong?"). It took decades to finally give him his due as a truly original and innovative composer.
I think of this piece as either (circa 1894) 1) a bunch of Kids in the backyard putting on a Circus; or 2) a Band for a Circus playing just for themselves, after a few brews.
Circus Band
Charles Ives
(1894)
Men:
All summer long we boys dreamed 'bout circus joys!
Down Main Street comes the band,
Oh, ain't it a grand and glorious noise!
All, Unison:
Horses are prancing,
Knights advancing,
Helmets gleaming,
Pennants streaming.
Cleopatra's on her throne!
That golden hair is all her own.
Women:
Where is the lady all in pink?
Last year she waved to me I think.
Can she have died? Can that rot!
She is passing but she sees me not.
Last Section, First Time: Tenor Solo
Riding down from Bangor
On the midnight train.
Rip, slam, bang we go sir,
Right on through the rain.
When in after-years we take our
Children on our knee,
We'll teach them that the
Alphabet begins with D.K.E.
Last Section, 2nd time, All:

Where is the clown that funny gink?
Last year, he winked at me I think.
Can he have died? Oh, can that rot!
He's still a-winkin', but he sees me not.
------------------------------------------
Modern Jazz Quartet
1951 - 1981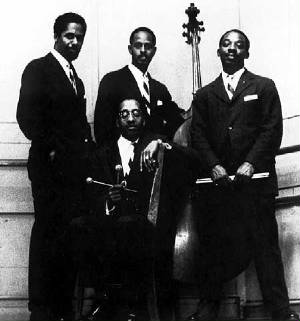 The Modern Jazz Quartet—unique shapers of post-Bop Jazz. It's been
said that they changed the face of jazz. They were in the forefront of the movement to take jazz out of smoky clubs and recreate it in a concert setting – which went a long way toward "legitimizing" a form of music which many still considered disreputable and unfit for polite company. Their music was "chamber jazz," music you could listen to in a drawing room, but John Lewis' baroque excursions were always balanced by Milt Jackson's blues-drenched vibes, which could simultaneously weave an intricate counterpoint to the piano's lines and swing with an element of what would later be called "funk" or "soul."
This is a short snippet—the first theme of the composition.
Django
---------------------------------------------
Traditional Russian Chorale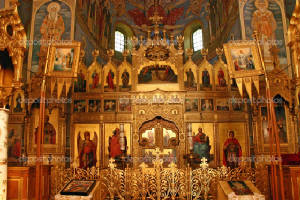 This is sung at the end of Vespers for the Elevation of the Holy Cross. The celebrant goes to the center of the church and takes the cross. Facing each of the 4 directions in turn, he makes an exclamation and raises the cross high over his head, slowly lowers it all the way to the ground, and then raises it up high again as the choir sings "Lord have mercy".
---------------------------------------------
Orlando di Lasso
1532-1594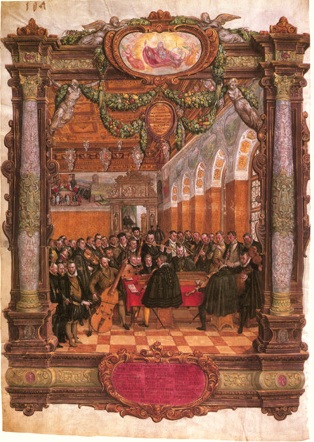 Orlandus Lassus, Orlando di Lasso, Roland de Lassus, or Roland Delattre) (1532 (possibly 1530) – 14 June 1594) was a Franco-Flemish composer of the lateRenaissance. He is today considered to be the chief representative of the mature polyphonic style of the Franco-Flemish school, and one of the three most famous and influential musicians in Europe at the end of the 16th century (the other two being Palestrina and Victoria).
One of the most prolific, versatile, and universal composers of the late Renaissance, Lassus wrote over 2,000 works in all Latin, French, Italian and German vocal genres known in his time.
His final work was often considered one of his best pieces: an exquisite set of twenty-one madrigali spirituali known as the Lagrime di San Pietro ("Tears of St. Peter"), which he dedicated toPope Clement VIII, and which was published posthumously in 1595. Lassus died in Munich on 14 June 1594, the same day that his employer decided to dismiss him for economic reasons; he never saw the letter.
Echo Song
02/17/13

Now configured for 2 Male Vocalists and 8-piece Instrumental Ensemble. Vocalists can choose either 'high' or 'low' range.