There is a handful of names that most people recognize and associate with the History of Jazz: Louis Armstrong, Duke Ellington, Billie Holliday; but the story of Jazz is one of epic proportions with groundbreaking creative artists contributing masterly works of art through the Jazz idiom.
For a completely unique perspective on the Story of Jazz as told by the musicians themselves, this is the book you should read:
"Hear Me Talkin' To Ya" compiled by Nat Hentoff and Nat Shapiro
In this book, you'll find these less well-known Jazz pioneers: Fletcher Henderson, Don Redman, Clarence Williams, Jimmie Lunceford, Luis Russell and many more. They all have fascinating stories to tell and I've dedicated more than 40 years to the telling of these stories and others through note-for-note transcriptions of original recordings and live! performance onstage.
When conditions are right, it's a win-win-win for everyone. But getting the conditions 'right' is problematic, to say the least. The band size is unwieldy (12 players, 2 vocalists and myself) and the repertoire is not the typical Swing Band fare, and thus less familiar to most. I'm trying to build a 'fan base' that will grow into a support base for future public performances.
You are, of course, not obliged in any way; but I'd like you to take the time to visit the two main Websites below: look, listen and absorb. My fascination is primarily with creative arranging techniques; but also with the players and their unique solo contributions. I dare say that my transcriptions are 99% spot-on accurate and a true reflection of the original recording sessions.
Join me as an Associate Ambassador to Palookaville: help me hip general audiences to these buried treasures and a broader appreciation of the Story of Jazz.
Just fill out the form and say: "I love what you're doing and I think it's worthy of wider support" or words to that effect. This will help encourage the rest of the world to sit up and pay attention. Once given the chance to present my repertoire, even initial skeptics walk away with a genuine appreciation of something they weren't aware of but are glad for the experience.
Americana Classic Jazz Orchestra
Americana Classic Transcriptions for Orchestra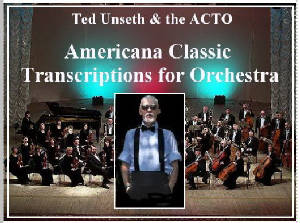 "Credo quia absurdum non accredo"
(I believe because it's absurd not to believe)