March 3, 2004
e-mail to friends Teenie and Mikey
Just a quickie from Work (while the Boss sits on the throne in the bathroom):
"Back Is Beautiful!" = Poppy and Maudy were waiting for me this AM at the Rez! Came straight to the fence and honked! It couldn't be anyone else. It's amazing to me that they chose to lead the flock out of the Rez last Spring (too much construction work going on; not conducive to raising kids) but remembered to come back to the Rez and not the breeding grounds they chose last year.

There's a definite Bond, here. A really nice thing...
Ted

031704
Update:
Poppy and Maudy are definitely back. We've had several Close Encounters since I last wrote. Maudy always takes the lead and comes for the bread, straightaway. Poppy always stands as tall as can be, farther back. He's in his Protector mode--I'm sure he believes Maudy is pregnant and now he's taking on his favorite role = Maudy needs the bread (to fatten up for having babies--she'll have to sit on the nest for the Duration--Poppy doesn't bring her any food, either), so she goes first. A little later, Poppy joins in.
When Maudy comes to the fence, she acts like she wants to take the bread from my hand = solidify the Bond? Nice.
It was raining yeterday, so I took the bus to work. I saw P and M waiting at the fence as the bus whizzed by--felt kinda sad, but also know that P and M are very savvy and they'll just wait until the next day = I'll be back and they know it = this has been going on for at least 9 years, now; and we've all learned a thing or two in the process: Steady Teddy always comes back...
Update 032704:
P. and M. are still greeting me at the fence.
One day I got down on my haunches and listened real close while they were eating bread pieces and, especially with Poppy, I could hear 'lips' smacking... It's very similar to the sound my mouth would make on a Sunday dinner at my family's house when I was a kid in Albert Lea, Minnesota. I remember telling my Mom one time that the meal she just cooked was so deliciously succulent it made my mouth do a 'thwok' sound that signified I was enjoying it immensely. I think the same applies here. Neat.
032904
Poppy and Maudy meet me at the fence again in the AM. Maudy's first, of course. After awhile I say to Poppy (re: the bread), "It's all right. The bread's for you, too." But, he seems ever so tentative. I say, "It's OK, Poppy, you know me, I ain'tagonna hurtcha", thinking I'm the one holding him back. But, no, it's not me, it's Maudy. If she's not finished, it wouldn't be 'right' for Poppy to just barge in and scarf the bread up. When Maudy stops eating for a moment Poppy comes around behind her and gingerly, inch by inch, makes his way to some bread. But all the time he's looking at Maudy. He grabs a large piece and does what all the Geese do with such an item--he shakes it back and forth in his beak which causes outer parts of the piece to fly off (sometimes through the fence back at me). Well, a big piece flew off, yes, but onto Maudy's back. She turned around, looked at it, looked at Poppy, pulled it off, threw it to the ground, looked at Poppy one more time and started waddling away, as if to say "Geez, Poppy, what a Klutz!" = pretty damn funny...
These are my Buds. Cool.
040704
Mornings, on the way to Work, are Prime Time for P and M. That's when I have bread and they're always waiting for me at or near the fence.
Two mornings ago, it was only Poppy = Maudy's now nesting. I know the general area, but can't quite see her. So, Poppy comes alone, takes a little bread then heads for the general area where Maudy's nesting--gotta keep letting her know that he's nearby and she needn't worry.
Yesterday AM, ditto. However:
On the way home from Work, I usually don't stop off at the Rez = I'm on the far side of the street, usually don't have bread with me and P and M are busy doing other things. However, I'm biking past the Rez and glance over--I see a C Goose about 50 yards away in the water. It's near where Maudy's nesting and I figure it's probably Poppy, but he's so far away I figure he won't recognize me and I'll just keep pedaling = Not! The C Goose flies up and out of the water and does a Great Glide to the fence = "Oh, geez, it IS Poppy. Shoot, I'm almost past the Rez already... Oh well." I turn the bike around and head back and pull up to the fence. "Hey Poppy, so good to see you." "Honk, honk, hiss, hiss." "I don't have any bread now, but I promise I'll be back tomorrow AM." "Honk." I think he understood instantly and went about snatching at patches of grass here and there = situation Normal. He just wanted to say Hello...
I sure like my Pals at the Rez.
050704
Okay. Maudy started nesting on April 5th. She just got off the nest 2 days ago = Exactly 30 days! That's much longer than I'd ever known her to do (17 days was my last highest count). Well, guess what?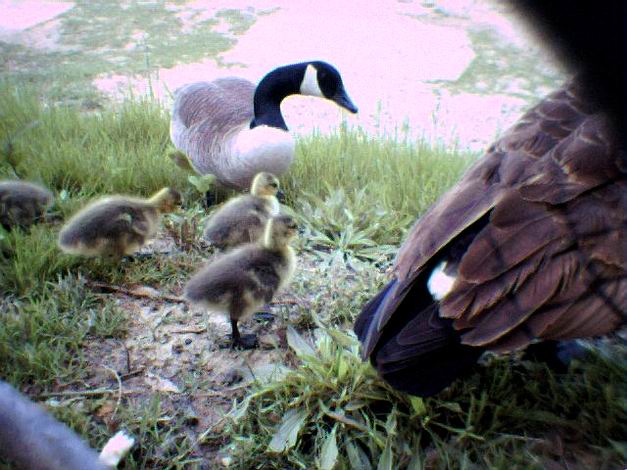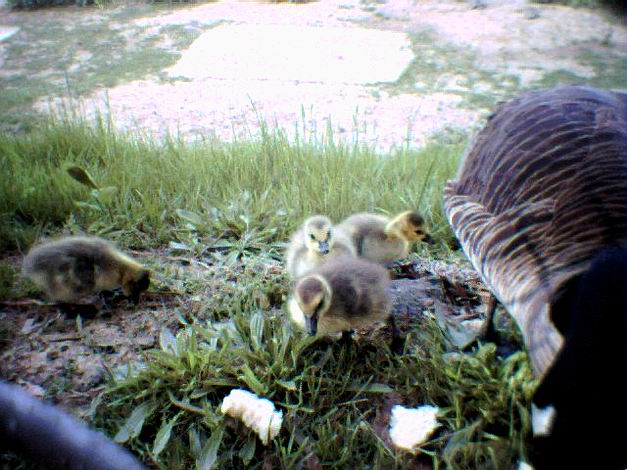 Well, no, not exactly...
This is another Adult Couple and their brand new Goslings. Maudy came up Empty this time...
Two days ago I put the binoculars onto the site where Maudy's been nesting and she's not on it! She's up and walking around, but there are no babies to be seen. And Poppy--poor Poppy: He's examining the Nest and if he could scratch his head I'm sure he would = "What? I've been valiantly defending You and this Territory for 30 days+ and this is what I get for it? Geez! C'mon, you're hiding them somewhere, right? This can't be!" Maudy's just watching him "Poor boy. He can't see the Big Picture--we just try again next year, no big whoop."
Right. So, yesterday they're still hanging around the nest and Poppy's still staring at it... Finally, Maudy starts waddling off and he follows.
I just chuckled to myself (not too loud; wouldn't want to upset the Popster).
051404
So, I figured it's all Downhill from here = P and M don't have Babies, so P will probably end up as the Director of the Creche (C Goose Daycare) and I'll not really know for sure if P and M are who they are (they won't be greeting me at the fence anymore = that phase is over).
Right?
Wrong.
Yesterday AM on the way to Work I'm whizzing past the Rez (not expecting anything in particular) and I hear Mad Honking, look over my right shoulder and see a C Goose flying towards the fence. And another C Goose is right behind it... I stop, turn around and check it out.
Well I'll be! It's definitely P and M! What are they doing? Everything is supposed to be the Next Phase. But here they are, Face Frontal, staring me right in the eyes and grunting Happy Stuff. Wow. So why?
Here's why: Maudy's going to Try Again. After P and M take a little bread and converse with me, Maudy starts honking, Poppy follows suit and they fly back over the water. Maudy goes to a spot she's designated as Nest #2. Poppy assumes Patrol Position in the water and I head off to work...
A Second Try? Yes, definitely. She did it one time before. Had three Goslings. But, a Big Problem came up later = Older Teenage Goslings harassing/beating-up/sometimes-killing Younger Goslings. We'll see about that later. For now, we'll just count the days she's on the new nest and see if she comes with The Real Thing this time.
I think it's pretty cool that they both wanted to come to the fence to tell me the News.
Foreground: Poppy -- Circled: Maudy on Nest #2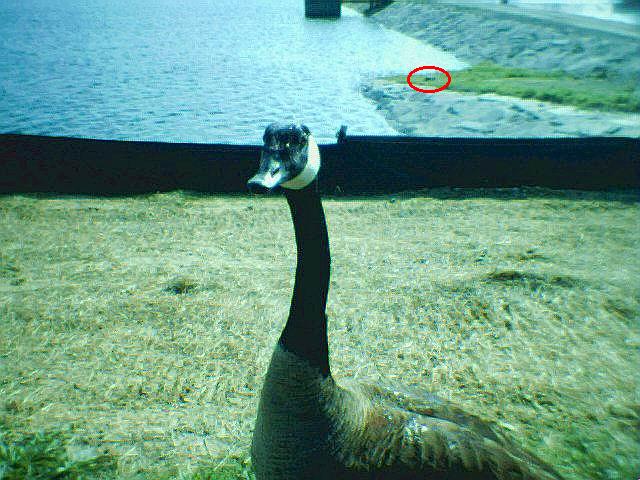 051704
Syttende Mai = Independence Day of Norway.
This morning, on the way to Work, I pull up to the fence and Maudy gets off of the Nest and waddles to the fence. Poppy's farther away (I don't see him, but do hear him) and makes his way to the fence, too. I get a chance to put the binoculars onto the Nest = lots of Fluff; no Eggs. It's a nice visit all around and I head off to Work.
Fine.
I do some errands after Work and pass by the Rez. As I'm nearing Maudy's Nest area I stand up on the pedals to get a better look = Yep, there she is--head and neck upright. I decide to pull over. Maudy gets off the Nest and comes to the fence again; Poppy follows suit shortly thereafter. I apologize for not having bread--just wanted to say Hello. I then put the Binocs onto the Nest and see...
Two Eggs
I can hardly believe it. She hasn't been at this location very long at all and she Drops Two Big Ones (they look really huge, especially compared to Backyard Bird eggs)!
The Photo below:
Blue Circle = Poppy
Yellow Circle = Maudy
Red Circle = Two Big Ones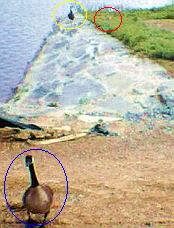 Interesting Note:
There are certain times when Maudy takes charge of a situation:
1. When she's getting fatted-up for laying eggs, she always is the first to get bread and Poppy always defers to her first.
But also
2. When partnerless Young Adult C. Geese come closer to where the bread is (they'd like to get some, too, if possible), Maudy will Lower Her Head and Fan Her Tail = "No Punks Allowed!" and she'll chase them back aways.
Poppy just watches and says, "That's my Babe."
Caveat:
Maudy had better be careful when she gets off the Nest 'cuz there are a couple of Crows eyeing those Two Eggs. I think she'll be all right--she spied one of the Crows and hustled back to the Nest. Good Luck, Kids!
051804
Yeah well, you'll need a little more than Luck, I guess. How about Vigilance?
In the photo below you'll see:
Red Circle = Maudy & 2 Eggs
Blue Circle = Poppy
Black Circle = Turkey Vultures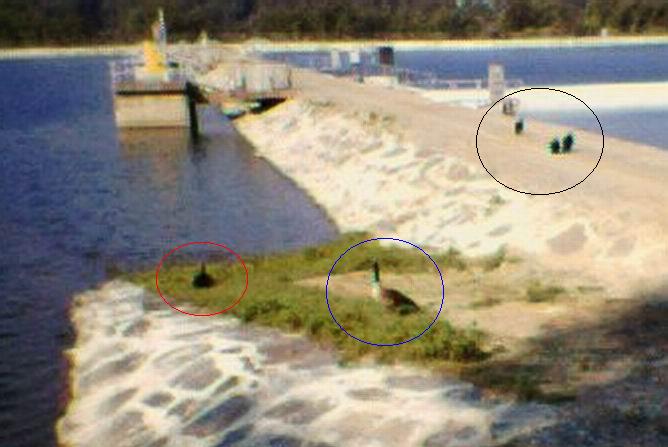 That's right, Turkey Vultures.
They come to the Rez from time to time.
Theoretically, they only eat Carrion.
But, I believe they will, on rare occasions,
eat live prey.
So, I Pray that's not why they're here at the Rez this AM.
The second photo shows only 2 Vultures. At one point there were 5!
And I'd never seen Poppy stand so close to Maudy as this AM--he was definitely on Red Alert!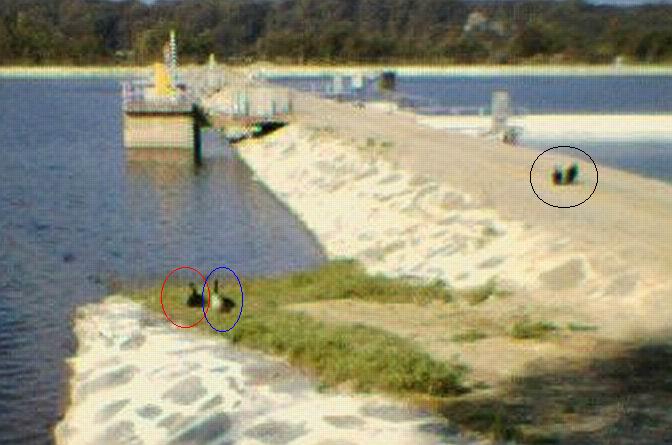 I checked the situation out after Work:
All is Calm. Maudy's snoozing on the nest.
I'm not sure where Poppy is--he can wander when there's no
perceptible danger.
What makes this scene extra Special is a Male Mallard who's also snoozing about two feet left and forward of Maudy--
he's pointed in the exact same direction as Maudy and the Sun is setting...
A little piece of the Peaceable Kingdom right here in the former Murder Capital of the US.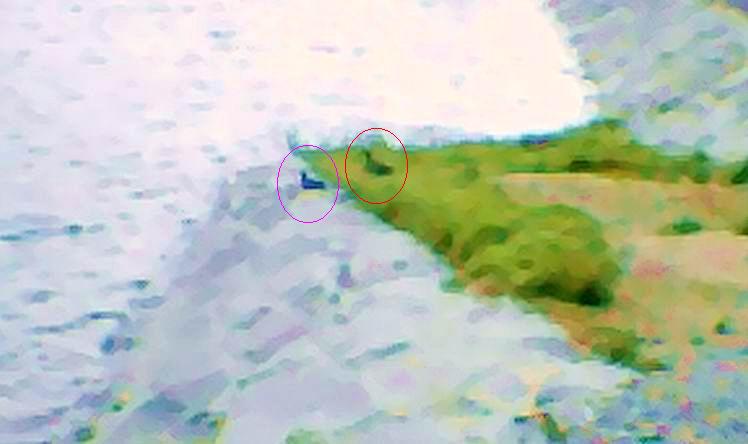 052004
I ride by the Rez this AM. Poppy comes to the fence, but so does Maudy (she was on the nest but caught me out of the corner of her eye and got right up). Without the binoculars I really can't see the Nest that well, but it looks real Empty... Oh oh. Crows? ...
I give P and M bread through the fence (they prefer to take it out of my hands and I prefer it that way too = nice touching) and then I put the binoculars onto the Nest...
Wait a minute. There IS an Egg in the Nest. Only one, though. Hmm.
When I saw two Eggs the other day, I noticed one looked much darker than the other. Yes, and I've seen this before (Maudy had two like this one time and they were both gone the next day. I concluded they were Infertile and Maudy knew it so she nudged them into the water and let them sink--pure speculation on my part, but I think the same applies here).
I tell Maudy she'd better get back on the Nest, but she's really going for the bread in a big way--almost nervously; like maybe the other egg is Infertile, too, but she doesn't want to have to admit it, so she's Eating, Eating, Eating... (Truthfully, I just don't know.)
All right, so I do my Work stint and stop off at the Rez, quietly (late afternoon generally means Quiet Time). I see Maudy on the Nest. And what is that just to the Right/Front of her? Oh neat, a Momma Mallard (resting, just like Maudy) and two Baby Mallards splashing at the water's edge.
I didn't make much noise when I came to the fence, so Poppy probably doesn't know I'm there yet (Maudy just stayed put, also, and didn't honk = she's quite Serious about this last Egg).
Then I try a little experiment that I was sure wouldn't work but DID:
All the photos on this page were taken by me on a tiny Camera extension of my Palm Handheld. So, Not Bad, considering, right? Well, I take out my Binoculars and position one lens exactly over a hole in the fence and I put my little Camera up to that and:
Whoa! I thought it was going to be all out-of-focus, but, no, I was able to Zoom In On Maudy. Not Bad At All. (See the two photos below.)
While I was doing this, Poppy mosied-on-over and came to the fence. No agitation whatsoever, no honking (I think mainly out of respect for Maudy who is Very Quiet). So I quietly said Hello, took a few more pictures and bid them adieu.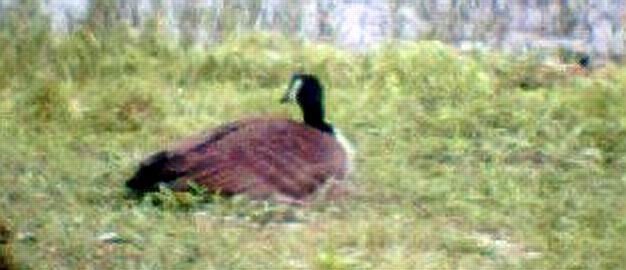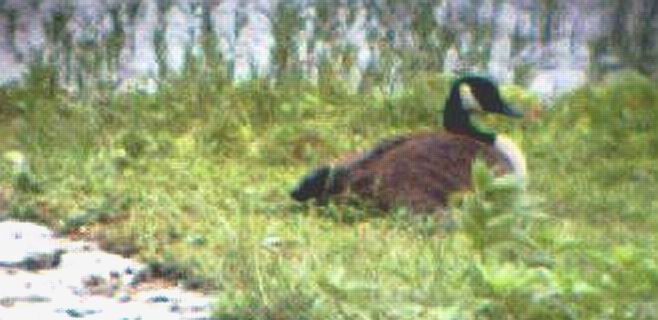 ======================================================
052104
Aside:
Long story short = I had an errand in Georgetown, didn't have my bike, walked there from Work. Was going to take a cab back but couldn't hail one so just walked all the way back (3 miles; got all hot and sweaty).
Oh well, this way I can check on Maudy as I pass the center gate to the Rez.
Well, sure, but:
There's a Momma Mallard and a couple of very new Ducklings (day old? 2 days maybe)! And they're
On The Wrong Side Of The Fence
The scenario I dread every Spring. Usually it's C. Geese; today it's Mallards. On the other side of the fence are the Other Eight Ducklings! Oh man, I have to figure this out...
A dude comes walking past me and I just say a few things and he continues walking.
How'm I gonna do this? I corral Momma towards the Center Gate. Wherever she goes the Ducklings follow. Sometimes a few will squeeze through the fence and then back again. Lots of Confusion and Crying. There's a nice opening twixt the two gate-parts but, no matter how many times I scoot her towards it, she just doesn't see it...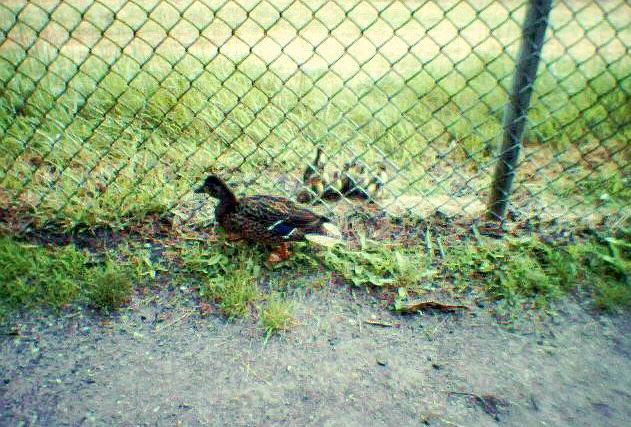 The same dude comes walking back the other way and I ask him to just stand there and not let Momma get by = I'm going to try to grab her and push her through the opening. (The dude really doesn't want to get involved but at least stands still.) "Okay, Momma, let's do this." I approach very slowly, but when I finally do the Grab she flies up. I reach for her and she flies even higher and up and over the fence! ... All right!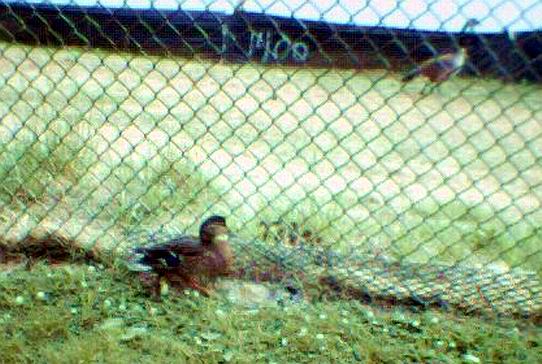 All the babies were on the other side so they watched her fly over and into the water and come up out of the water towards them. The picture below is All Ten Ducklings making a duck-line to Momma = Happy Ending!
Notice in the middle photo that Poppy is watching what's going on. He doesn't mix in but he seems to be concerned, as well.
After all this happened I finally took a look at Maudy and the Nest. When I first really looked she was off the Nest (perhaps also intently watching the Mallard Family Drama). After a bit, she went back down onto the Nest, so I assume there's still One Egg left. We'll see.
I'm glad I couldn't hail a cab tonight--I helped a Mother get reunited with her Family. That's about as good as it gets.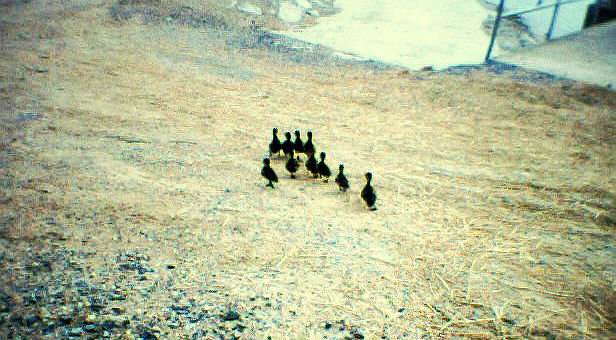 ======================================================
052204
P & M Update:
Got another, better look at Maudy's Nest = there still are
Two Eggs!
When I came to the fence today Poppy was in the water and Maudy on the Nest. Poppy started honking and flying to me. And Maudy filed suit. Both came straight to the fence.
As they were coming I threw some bread over far from the fence (because there was another Adult C. Goose couple with 3 Goslings heading this way, also and I didn't want the babies coming too close to the fence = they might try squeezing through and that's a Really Bad Idea), but P & M didn't want that = they wanted to take it from my hands at the fence.
I told Maudy she'd better get back to that nest soon, though.
The other Family was making its way to the farther away bread and P & M had to defer (Adult C. Geese always defer to a Family with Goslings), but did it under protest and gradually both made their way back to M's Nest.
Two Eggs, still. Great!
====================================================
052405
Monday AM. When I pull up to the center gate, Poppy sees me right away, honks, starts coming to the fence. Maudy does, too. She wasn't sitting on the Nest when I arrived. I push a bunch of bread through the fence, then take a look at the Nest with the binoculars = A Bunch Of Fluff! Down/Feathers, yes; but I can't see any Eggs... I move around and try different perspectives, but only see Fluff... Were they Infertile and thus pushed into the water? ...
Another couple of C. Geese and their 3 Almost-Teenagers are coming towards us. I quickly throw a bunch of bread their way (I don't want the Kids coming to the fence--squeezing through it is what I dread for these critters). The Family gets closer and P and M have to do what all Adult Geese do--Defer To The Family. They do a bit of Protest Honking but gradually move away from the fence towards the Nest. Maudy stands next to it, looks at it, but doesn't sit down... I think the Eggs are gone... I leave for Work with P and M just standing around the Nest...
====================================================
Later that day:
Ah, yes, but when I come by after Work the Scene is completely different--Maudy is sitting firmly on the Nest again! Poppy's patrolling the waters nearby. And:
Just off to one side at the water's edge is a
Momma Mallard and Two Babies
The Babies are splashing in the water and nibbling at vegetation. Momma Mallard is just quietly watching. And Maudy is Concentrating...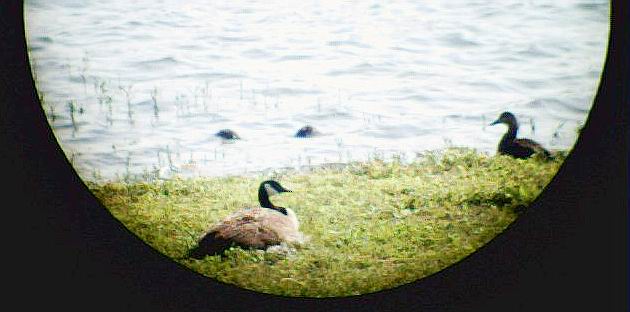 Yes. And besides that, there's a Special Treat nearby on the other side of the Center Strip:
A Momma Wood Duck and Six Babies
I saw them yesterday at about the same Time of Day, Early Evening. It's not quite Dusk, but Early Evening at the Rez has a special Calm feeling about it--the Sun is beginning to go down and most every critter at the Rez is in a Relaxed Mode. The Momma Wood Duck does exactly what the Momma Mallard does--sits at the water's edge and watches the Kids Play. I never see them in the AM, but I think she likes to take them here towards the end of the day. I got a couple of halfway decen shots with the Palm Camera propped up against the Binoculars (a very crude way to get Zoom, but it's what I've got).
Well, let's see what Maudy's Nest looks like tomorrow...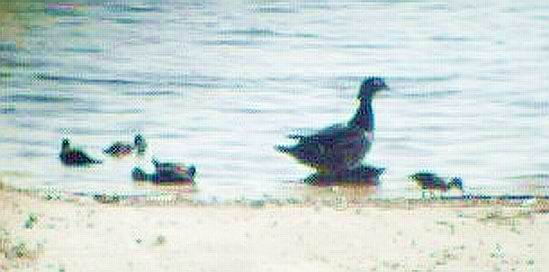 052504
Mornings and Afternoons are so different at the Rez:
This Morning, both Poppy and Maudy come straight to the fence, honking, etc. They seem almost Overexcited. I tell Maudy to not forget about the Two Eggs...
This Evening, after Work, is so Placid. Maudy's on the Nest. She sees me, but doesn't budge or make a sound. Poppy's in the water, farther away. He recognizes me, makes a few soft, initial honks, slowly makes his way towards shore, but doesn't come all the way. He settles down on the grass, not far from Maudy = Very Calm and Collected.
Add to this the Momma Mallard of yesterday and the day before--she's making a habit of bringing the Babes to this same spot every Evening--Just contentedly watching her Kids play.
I'm beginning to prefer Evenings at the Rez to Mornings...
p.s. Maudy definitely still has Two Eggs.
060304
As of tomorrow, it'll be exactly 3 weeks since Maudy took up this Second Nest. 21 days. And the eggs are still Not Hatched.
A couple of days ago, I visited P & M in the morning and they both came to the fence for some bread. That's OK if there are no predators around, but there was a Crow on a telephone pole right above me and I told Maudy she'd better be careful...
Another Goose Couple and their Teenage Brood were heading my way, so I quickly grabbed more bread and gave it a hefty toss towards them (so P & M wouldn't have to vacate their position close to me = if the other Family were to continue towards me P & M would, genetically, have to defer to them). It's good I made that demonstrative toss 'cuz the Crow had just started his glide towards Maudy's Nest and my toss caused P and M to look around and when they saw the Crow landing right next to the Nest they did some Mad Honking and scared the Crow off... !! "C'mon, Maudy, you've got to be more careful!" Both P and M looked a bit embarrassed...
Well, as of this morning, the Two Eggs were still there, quite visible. No predators around, everything quite Calm.
After Work, I decided not to stop, but got a good peek at Maudy On The Nest = AOK.
...How long can this thing take? I mean, 30 days on the Nothing Nest and now 21 days on the Two Egg Nest! All the other C. Goose families at the Rez have Teenage/Juvenal babies, now. This is the latest I've ever known Maudy (or any C. Goose) to be hatching eggs. I sure hope these are for Real--Maudy's put in a lot of time on this Project (Poppy, too).
P.S. Several days ago, I was at the fence with P & M and several Young, Unattached C. Geese caught wind of my Free Bread and were gingerly making their way towards us... Well, Maudy got wind of them and she did what I've seen her do only a few times in the ten years that I've been tracking these guys:
She turned towards them, hunkered her head low to the ground, Shook Her Tail Feathers and Charged! = Maudy's saying "You young punks are going to wait your turn, get it?" Yeah, they got it all right = scattered hither and yon...
Maudy, you are So Cool.
===============================================
061004
This is the Morning After I took the photo below:
On the way to Work yesterday AM, I pull up to the fence and Poppy comes over, but Maudy looks like she wants to (stretches her neck and rustles her tail feathers), but doesn't = Something's going on underneath her and she daren't move = Maybe today's the day?
I tell her to stay where she is, it's OK. And I head off to Work.
===============================================
I come by after Work and Poppy comes to the fence, but Maudy's off of the Nest, right alognside it. I take out the binoculars and see:
One Brand New Gosling
!! Well, whaddya know? She did it! 26 days! The longest successful hatch to date.
She stays by the Nest, the Little One at her feet. Then she carefully settles down on the Nest again and the Little One is guided under her and:
Lights out, Little One
There's One More to be hatched...
I tell Maudy I'm proud of her and I leave the Family until tomorrow AM (which will be today).
Hopefully, I can get my klunky Binocular/Camera zoom setup to capture some good stuff on my way to Work today.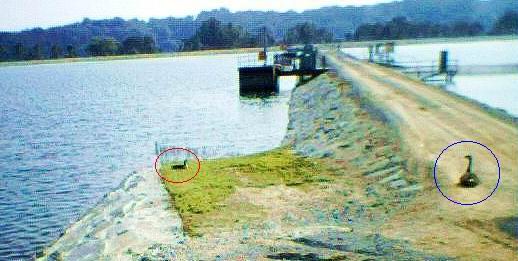 ===============================================
===============================================
061004 PM
Today was supposed to be Afternoon Showers, but it didn't happen so I was able to bike to the Rez after Work and get a few photos of
The Little One
I only see One. Can't tell if there's another one in the Nest (Maudy's spread a lot of her down over everything), but Maudy's bringing this Little One to the Fence! Poppy's alongside. No dangers in sight = Beautiful! "Peep peep!"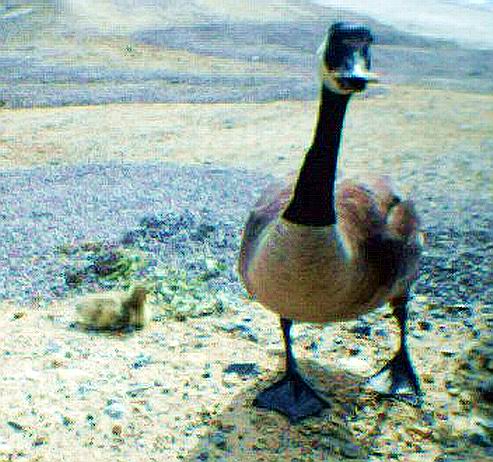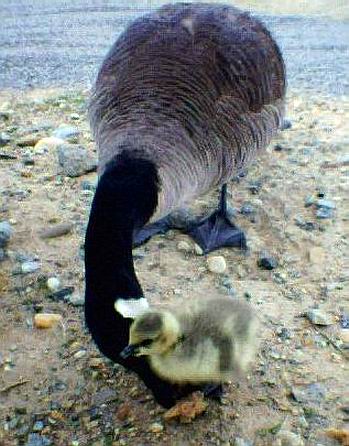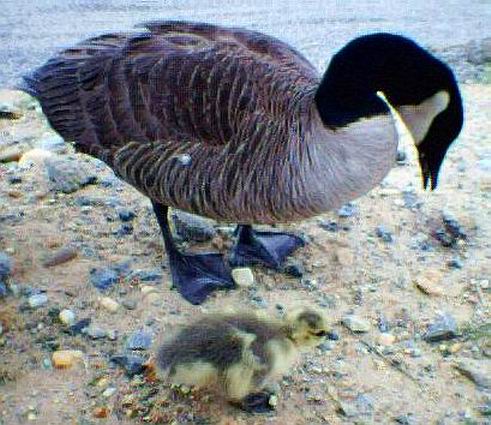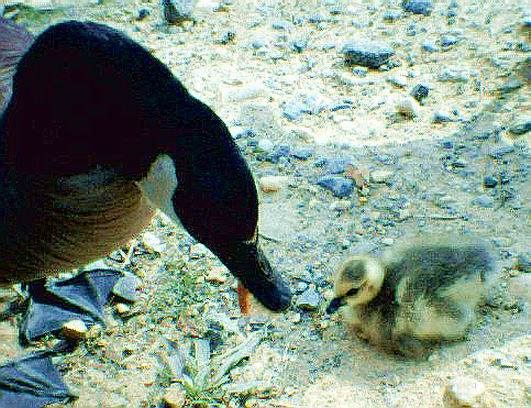 Short-lived Tranquility:
Two Potential Dangers appear--
1. A Lone Juvenal C. Goose:
He doesn't know any better, but he's lost and comes towards us = Mistake = P. & M. are under no genetic obligation to defer to a Lone Juvenal and give him a bunch of 'whatfor' and scoot him away. Still, though:
2. Mr. Crow is back and he's heading towards the Nest. Maudy starts running over that way (and knocks The Little One over in the process = I never said they were perfect). Swallows get wind of the Crow and start dive-bombing him. With Maudy on the way he flies up onto a pole, instead; and the Swallows are doing their Most Beautiful Thing = whish, whirr, bump... Crow finally leaves the Rez.
Right, but then a C. Goose Family shows up and Poppy leads The Little One down to where Maudy has re-nested.
Hmm. Life ain't easy (Bill Gates said so).
Who knows? There might be another Egg, yet. I'll let you know tomorrow.
===============================================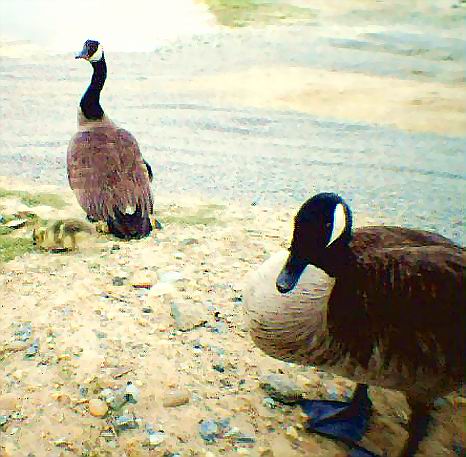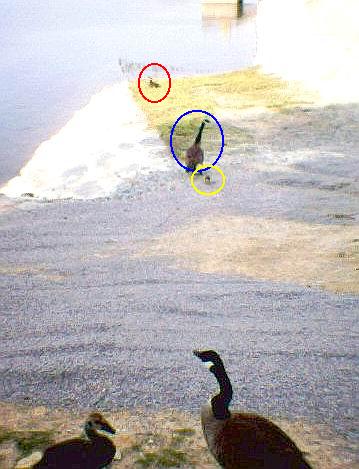 061104
It's Official, now:
One Gosling
It rained almost all day today.
I took the bus to Work and looked for the Family as the bus rolled by the Center Gate = There they were, Maudy in front, Little One in the middle and Poppy bringing up the rear--heading for the fence and... I'm not there. Oh man, I feel Guilty. Oh well, I'll walk home from Work with some Deli bread and perhaps I'll see them then.
I do walk home and as I course the First Half of the Rez I don't see any waterfowl at all... hmm.
But when I approach the Center Gate I see Three C. Geese near the Nest site. Why Three? Oh, it's not P & M, but some curious unattached Adults (probably very young) sniffing the Nest and surroundings = I don't know what happened to the Second Egg, but it's a Non-Issue, now.
As I walk past the Gate I finally see P & M and LO (Little One) on the Second Half of the Rez.
I throw some whole pieces of bread to the Other Three so they won't bother The Family and then I try coaxing The Family to the fence. They come a ways, but Maudy is leading and she doesn't want to come all the way (I'm not sure why--maybe she doesn't recognize me without the Bike and wearing a different Hat??). She's more interested in shooshing the Other Three back and taking that bread (maybe she's showing Little One that she's In Charge). At one point, Junior wanders a bit towards me so I snap a Photo (see below).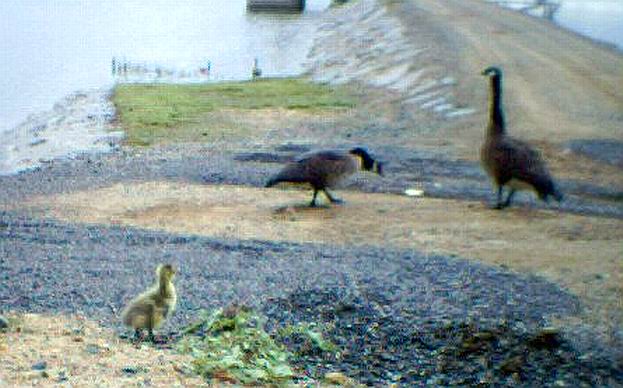 Then, all of a sudden, a Large Creche swims in and I see Trouble = the Juvenals are looking very Jurassic now and they're testing their Intimidation Posturings on Unattached Adults who've followed along and scatter when challenged. P & M & LO are stuck in the middle and I'm worried the Juvenals are going to test The Family out.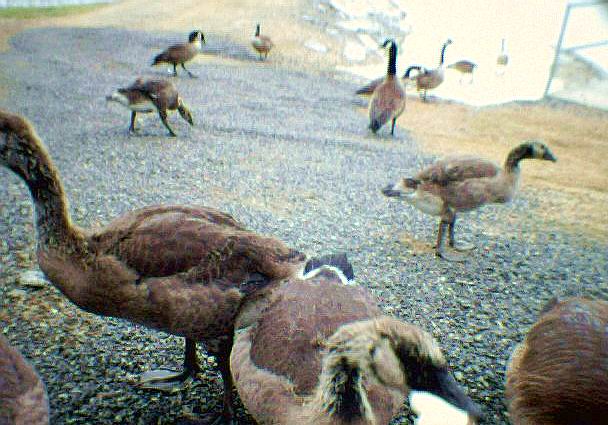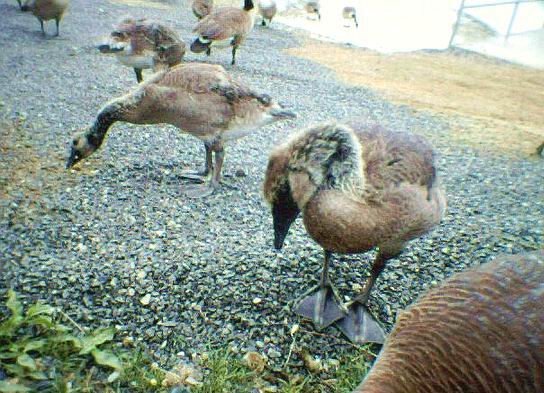 A couple of them do, but P & M scare them off and they're protecting LO very well so I bid them adieu and head for home with the thought that Maudy spent a total of 56 days Nesting... and Made It Happen. Again. Go, Girl! And Poppy. And Little One.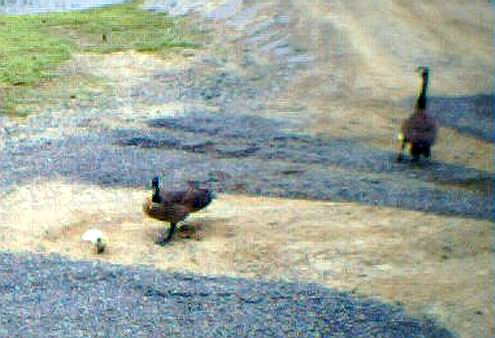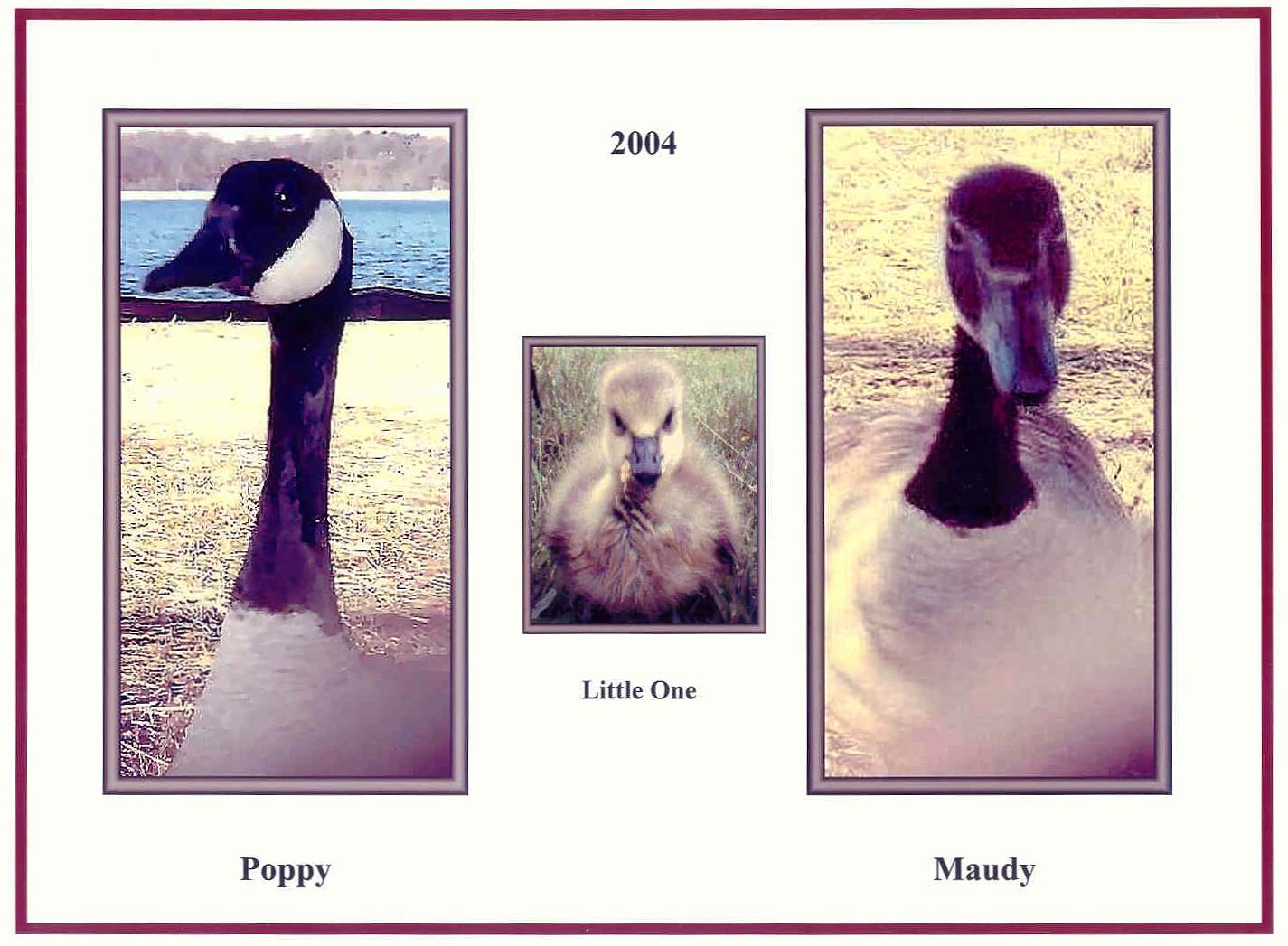 061604
I suppose I shouldn't say anything (don't want to Jinx it), but... It looks like everything has Settled Out very well:
P, M and LO are getting along just fine. They come to the fence mornings and afternoons. I give the Family a little bread through the fence right away. Then I quickly throw bunches of bread far away towards the Other Geese that are appoaching = so far, I've seen No Conflicts. As a matter of fact I've seen two scenarios in the past couple of days that make me think it's all going to work out just fine:
1. Yesterday, the Family had collected a half dozen Unattached Young Adult C. Geese as something of a Posse--I saw them all swimming together and they all came towards the fence, but P and M made sure the Youngers knew who was in charge. Cool.
2. Even Cooler Yet was what I saw this morning--the Family was swimming with a Creche (Adults and Teenage Juvenals) and when the Family came to the fence (posthaste) I gave them some quckie bread and then threw bunches to the advancing Creche = everybody got some and all was Calm. I think the Parameters are set and everyone knows their place.
p.s. LO seems to know me already--he/she was the first to the fence this afternoon...
====================================================
081004
Final Update:
Everything is 'under control'.
There seem to be two distinct Gaggles operationg, now. All the kids are pretty much grown, now. Little One isn't quite 'there', yet, but he's coming along just fine (see two photos below).
I don't see P, M and LO much anymore. Many is the time I won't see any C. Geese at all = they're on the far-sides a lot, now.

P and M still do recognize me. But if I don't have a genuine food treat they'll ignore me. Same with LO. This is the season where I gradually fade out = the Excitement is over for the season.

I'll continue stopping by, of course, because whether there are C. Geese around or not, it's so Pleasant to stare at the Reservoir in the morning before work--it's Therapeutic.

Perhaps more later, but if not, check me out next year.; The story will be completely different!
=====================================================
8/27/04
I just discovered the power cord to my Handycam (it's been lost for three years) and rediscovered some footage I took at the Georgetown Reservoir before I lost the cord...
I'm not sure if it was only one day, but it for sure was only one year that American Coots (they frequent the Reservoir fairly regularly) actually came ashore and up to the fence where I throw bread!
I have a good amount of footage and will try for beter pictures (video captures), later; but for now:
I had no idea what a Coot's feet look like until three of them came ashore this particular day and one of them came all the way up to the fence. You can't see it too clearly but each foot has Three Front Toes. And what you can't see at all (but I'll try to get better shots of this later) is a Fourth Toe in the rear that looks like a Spike of some sort.
The Coot is a very curious creature. When migrating waterfowl visit the Rez, the Coots will head on over to them and try to mix in. Some allow it, others don't; but the Coot likes to mingle with all kinds of water birds--gregarious.
Another phenomenon that I couldn't/didn't catch on film is how they fly up out of the water = they have to get a running start, so there are times when it looks like they're running across the surface of the water as if it were semi-solid = hilarious.
Georgetown Reservoir - late winter - 2001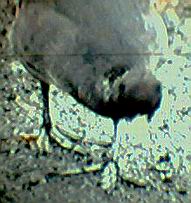 American Coot - three front toes per foot
=================================================================================
=================================================================================
=================================================================================
[to my Home Page = click on 'TedEBoy' link below]
Ted Unseth/TedEBoy Productions