--------------------------------------------------------------------
--------------------------------------------------
Nine years later, the scene is this:
I'd lost a great manager, David Louis Rodgers, to a debilitating car crash late 1979 and entered into a Partnership the next year. Four years later, my 'partners' leveraged me out of the WCJO organization (biggest business mistake of my career—allowing partners to outvote me). I renamed my project the American Classic Jazz Orchestra, but couldn't compete with the 'old' name (which had a lot of clout back then), so I assembled what I called "my concession to the recession"--a Septet version that still retained Brass and Woodwinds and thus was still uniquely authentic. It was originally monikered "De Stijlistics", but few people could pronounce it or catch the double entendre, so I renamed it the American Classic Jazz Ensemble.
In 1988, I had a special concert booked for the Hennepin Arts Center in Minneapolis and Leigh was to interview me onstage before the actual performance. And he was also going to do a discussion segment with the legendary Jazz promoter and author, John Hammond (see picture below of Ted and Mr. Hammond backstage).
And my Special Musical Guest was the ultimate Stride Piano and Jazz expert, Butch Thompson. This was the first time we were to have worked together and the afternoon before the concert, Leigh called Butch and did a phone interview re: the evening's event.
The link below is a snippet from that conversation…
-----------------------------------------------------------
---------------------------------------------------
In 1993, I produced my ACJO 20th Anniversary Concerts at Bandana Square in St. Paul. This was the second time I was able to feature Butch Thompson on Piano (absolutely terrific), but this time with the full ensemble. And I had top local talent in every chair on the bandstand. Plus, Shirley Witherspoon as featured Female Vocalist; and… 91-year-old Benny Waters: legendary Alto Sax man who'd been in Europe for 40 years, but had recently returned to the US (at one point, he said about the US: "With all its faults, I love you still.").
I don't have tape of Leigh from those evenings, but in 2006 I'd moved back to Minneapolis from Washington, DC and Leigh was gracious enough to give me lots of airtime on his Saturday night "Jazz Image" show. It was a phone interview (he called me at my home from the studio) interspersed with selections from the CD I'd created featuring the best recordings from the 20th Anniversary events. His show was four hours long and he called me 4 times at ~ the :30 time (9:30, 10:30, etc.). We talked a bit, he'd play a track, then we'd talk some more. The rest of the time was a potpourri of other material. I recorded the pertinent segments and thus have four 'tracks', but they're quite long and I debated editing them further, but decided to post them 'as is'.
The four segments range from 12-16 minutes long. They may take some time to load, so see note below:
[ Note on audio clips/links: Some are fairly long and take a while to laod; so it's best to right-click on the link, choose "open in a new window", let that start loading, then minimize that = return here. ]
01_Leigh - Ted_Jazz Image_2006
02_Leigh - Ted_Jazz Image_2006
03_Leigh - Ted_Jazz Image_2006
04_Leigh - Ted_Jazz Image_2006
---------------------------------------------------------
--------------------------------------------
Three years later, in 2009, I'd revised the 20th Anniversary CD (added more tracks) and sent Leigh a copy. The phone message below is the last I heard from Leigh.
Leigh Kamman was, from the git-go, a true believer in what I've been trying to do all these years; and his comments are valued most highly.
-----------------------------------------------------------
---------------------------------------
The following are a few photos from Leigh's career. I have no idea what all he has in his Audio Archives, but I do know for a fact that he has an interview with Charlie Parker (!). I'm sure there's much more; and, as I understand it, Leigh is working on a book. I certainly wish him all the best. Because he was one of The Best.
Young, handsome Leigh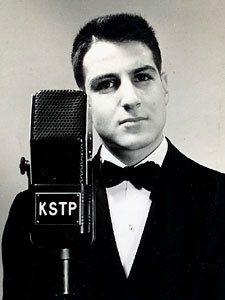 Diahann Carroll and Leigh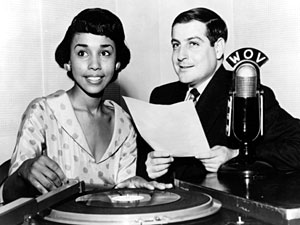 Leigh and Gene Krupa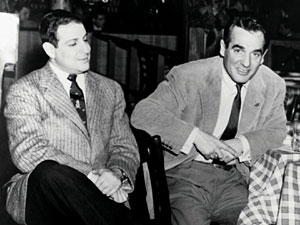 Leigh and Stan Kenton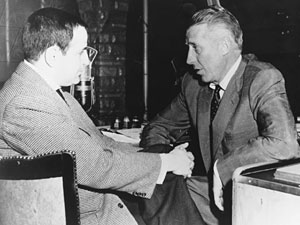 Leigh and Dizzy Gillespie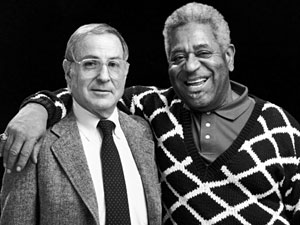 As I said to Leigh in the phone interview of 2006, "I remember a WCCO late-night radio host named Franklin Hobbs. He called his show Hobbs' House and I have fondest memories as a kid of listening to his show on the car radio and gazing at the stars as the folks would be driving back from somewhere. You remind me of Franklin Hobbs and have had the same effect on a Saturday night: You have a great radio voice like Hobbs, but you also have an Imagination that no one else has. Some thought you rambled on too much, but I loved the way you painted pictues and took us on imaginary rides into the past."
Leigh Kamman, thank you for so many Golden Moments.
Ted Unseth
2012