Electrical recordings were new upon the scene in 1920 and this selection was on the backside of the very first "million-seller" 78 RPM record ("Wang Wang Blues" being the frontside).

Some mistake early recordings as being more primitive compared to modern fare; and that may be true of much from the early years, but Whiteman hired very capable, schooled musicians and this is an excellent example.

The Solo work was originally played by a very facile Alto Sax specialist, Hale Byers. I used to play this with the ACJO for several years (until I transitioned to Conductor). I have now re-worked it for Solo Cello.

I couldn't find a great Cello soundfont for this Virtual Orchestration, so used Viola; but imagine Cello. Yes, it's in a very high range for Cello, but I think it could be a 'gas' to rip on the Cello.



---------------------------------------------


"Tozo"
Fletcher Henderson Orchestra 1927
[ Arranger: Don Redman ]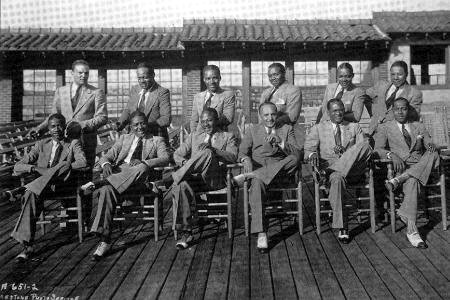 I view/hear the 1920's (the Jazz Age) as 3 parts:

Early,Middle and Late. Early = more in the style of Syncopation Orchestras; but by 1927, sophistication and real Jazz improvisation was evident.

The Fletcher Henderson Orchestra was the premiere American Jazz Orchestra at this time; and Chicago was the hub, not New Orleans or NYC. The band now features Tenor Sax giant Coleman Hawkins and I transcribed his muscular solo work, which my Tenor Sax guys would try to play note-for-note. It now is assigned to Solo Cello.

I found a great soundfont for this, so it should be easy to Imagine. Cut loose on that Cello, Yo-Yo Ma and become "Yo-Yo Hawkins."

----------------------------------------------




"Stevedore Stomp"
Duke Ellington Orchestra 1928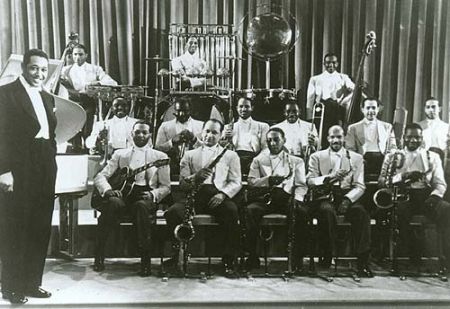 There are so many outstanding recordings by the Duke Ellington Orchestra over the decades; and the 1920's era is no exception.
I have scored the Bari Sax Solo (original by legendary Harry Carney--with Duke longer than any other player) for Solo Cello.
Stompin!
----------------------------------------------------------------
The Upshot:
Scenario:

Ted Unseth and Yo-Yo Ma start a Dialogue.

"What to do with this precious stuff?"

Make it happen in a significant way via a TV appearance on "The Late Show" with Stephen Colbert. He is interested in unique and different musical ideas and recently hired a complete Classical Orchestra to perform music for a new film being released. It was a large group, very unusual for a talk show. So,

Yo-Yo Ma has his cohorts contact The Late Show and convince them to book Yo-Yo Ma, Ted Unseth and a/his Classical Orchestra (I will delineate the exact instrumentation later; perhaps employing Late Show Band members). Two selections:Early '20's; late '20's; Great American Jazz Orchestra tribute.

Or, better yet:
Yo-Yo Ma contacts Osmo Vanska, Director of the Minnesota Symphony (located here in Minneapolis where I live); and says he wants to do a Special Concert appearance with Ted Unseth and his ACTO concept.

I recently saw an article about 5 new, young members of the MN Orchestra; and they looked so fresh and open to ideas. I've sent promotional materials to all 5 and think it a great idea to feature them in an above-suggested concert. 3 are First Violins; 1 is Double Bass; and one is Bass Trombone.

When I first started this project I had young players all. Lately I've been pitching my ideas to grown adults and get no response. A long time ago, a seasoned pro pianist from Minneapolis told me why the ACJO project was destined to be successful--young players who are willing to think outside of the box.

I see that potential this time around and find it exciting.

For Yo-Yo Ma, it could be a blast. For Ted Unseth it would be Exposure to a wider audience. A win-win-win:

The audience will benefit from an American Humanities 'lesson'--I'm sure most know nothing of the Jazz Orchestras of the 1920/s-1930's; and it's such a hip era that seems to have been passed by, especially by Classical Orchestras.

I turn 70 in 2016. I want this ACTO project to succeed (before I'm translated into the Great Beyond).

---------------------------------------------------------


05/22/16

Chris Thile, Mandolinist Extraordinaire, is now the host of Prairie Home Companion. I am interested in this collaboration:

Chris Thile, Yo Yo Ma and Ted Unseth as Special Guests of the Minnesota Orchestra. I have some re-working to do, but here's a concept featuring Solo Violin:


Saint Louis Shuffle 1926
Fletcher Henderson Orchestra
Don Redman, Arranger
St Louis Shuffle_ACTO_Vln-Cello_MP3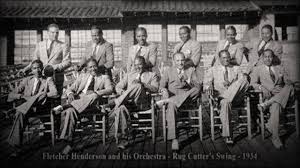 I have yet to configure Solo Mandolin for the Solo Violin part, but imagine Chris doing that and Yo Yo Ma doing the Solo Cello work. A singularly unique arrangement and approach.
------------------------------------------------
05/23/16:

I found my Mandolin soundfont, so here's an idea of how id might sound:
St. Louis Shuffle_Mandol-Cello_MP3
St. Louis Shuffle_ACTO_Mandolin_PDF


Ted Unseth
4205 15th Ave. S.
Minneapolis, MN
952-220-8712