"ACJO 20th Anniversary with Benny Waters" CD. Click Link below: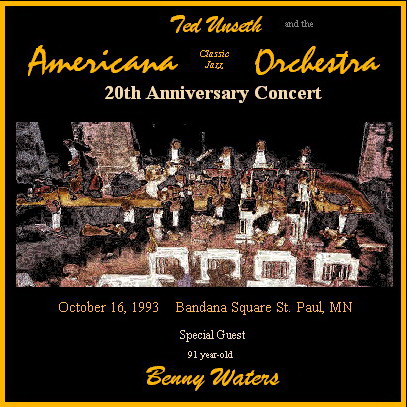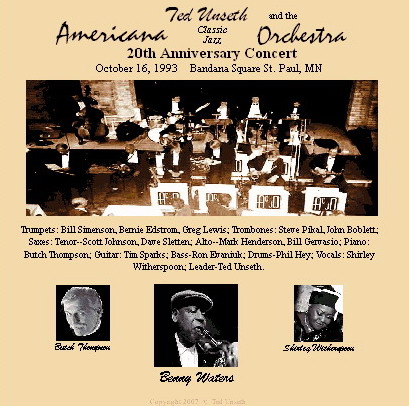 St. Paul Pioneer Press
October 18, 1993
Concert Review
Benny Waters steals the show, and all that jazz
Bob Protzman Staff Writer
Only someone as dedicated to the 1920's-30's early big band music and as enthusiastic and generous in sharing it as former Twin Citian Ted Unseth, would hire someone practically guaranteed to upstage his own efforts.
Unseth, who left the Twin Cities for Washington, DC in 1990, was back home over the weekend to celebrate the 20th anniversary of his founding here of the Wolverines Classic Jazz Orchestra.
Unseth's WCJO--not to be confused with the current Wolverines Big Band—provided many nights of pleasure for local audiences for a number of years at various venues, and it was a joy to hear the band again Friday night at the Dakota Bar and Grill in St. Paul under its new name, the Americana Classic Jazz Orchestra. The 13-member ACJO also played Saturday at the Dakota.
The ACJO gave a polished, entertaining performance, playing 'hot jazz' songs and arrangements by Fletcher Henderson, Jimmie Lunceford, Cab Calloway, Duke Ellington and others. But as enjoyable as the ACJO's recreations of Jazz Age music were, it was 91-year-old saxophonist-vocalist Benny Waters who stole the show.
Waters, you see, was there during the Roaring '20's playing with the bands of Henderson and Lunceford. And here he was in the Dakota Atrium still playing and singing with incredible gusto, probably very much as he had those many decades ago.
Little known—primarily because he lived in Europe for 40 years before returning to the United States several years ago—Waters was a revelation.
Though he has diminished sight and needs some assistance in walking, once on the bandstand, he is amazingly vital. So is his music. Backed empathetically and skillfully by the rhythm section of the ACJO (Butch Thompson, piano; Tim Sparks, guitar; Ron Evaniuk, bass; Phil Hey, drums) Waters' alto was both sweet and robust—if occasionally a bit blustery.
And despite a few clinkers, he played lines that seemed to skip merrily along. He sang and scatted in a deep baritone, somewhat remindful of the great Al Hibler. And he charmed everyone with his keen sense of humor.
His 45-minute set included "I Can't Give You Anything But Love", "Misty", a full-of-fun blues title "Hurry On Down To See Me, Baby", a bossa nova version of "Autumn Leaves", his own slow blues "Benny's Blue Waters", and the closing "Lady Be Good", played at a very fast tempo.
There were too many highlights in the Americana Classic Jazz Orchestra's set to include here. One was the richness of horns on "I Ain't Got Nobody"; another was Thompson's playing on "Basie's Boogie", a terrific jump tune.
The full band sounded wonderful—chirping clarinets, trilling brass and Hey's drumming on the hi-hat cymbals—on the intricately arranged "The Whiteman Stomp".
And special guest vocalist Shirley Witherspoon was at her best, wailing on the low-down "Hungry Blues" and ebullient on "Swing Brother, Swing" featuring trumpeter Bernie Edstrom's fine plunger-mute solo.
====================================================
Ted Unseth & the
Americana
Classic Jazz
Orchestra
20th Anniversary Concert
Special Guest
91-year old
Benny Waters
October 16,1993
Bandana Square; St. Paul, MN
1.
Lunceford tag
into
Ted Unseth welcome
2. The Way I Feel Today 1929
Don Redman Orchestra

Ted Unseth, Vocal
3. Mood Indigo 1940's
Duke Ellington Orchestra

Benny Waters

, Alto Sax Solo

Shirley Witherspoon, Vocal

Butch Thompson, Clarinet Solo
4. Toby 1933
Bennie Moten/Count Basie
Butch Thompson, Piano Solo
Benny Waters
, Alto Sax Solo
Benny Waters, Short Biography
Benny's Blue Waters

Benny Waters

, Alto Sax Feature

Butch Thompson, Piano Solos

Ron Evaniuk, Bass Solos
6. Peace and Love for All 1943
Jimmie Lunceford Orchestra

Shirley Witherspoon, Vocal
7. Paul Gonsalves Solo 1956
Dave Sletten/Scott Johnson
Crescendo in Blue
Duke Ellington Orchestra
8. Ted Unseth, Thank You
Breuker tag
Bernie and Greg, Thank You
--Postlude--
10. Ted Unseth interview 1976
11. Leigh Kamman commentary 1979
Copyright 2007 © Ted Unseth
====================================================
Click on Link below to hear Benny's
Intro to his "Benny's Blue Waters"
Benny Waters: The Most Modern 91 year-old Jazz Saxophonist In The World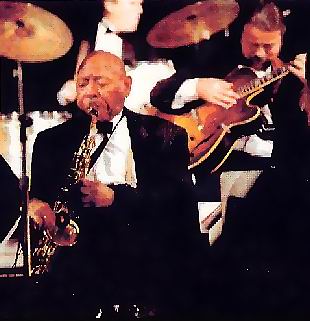 Click on Link below to hear
Benny's "short bee-ography"
Benny Waters, In His Own Words
Jazz Profiles: Benny Waters

Longevity, versatility and virtuosity are words that inevitably come to mind in describing Benny Waters. His career as a clarinetist, tenor and alto saxophonist, vocalist, composer and arranger encompassed eight decades, and his playing reflected elements from the entire history of Jazz. Waters' boundless energy and creative spirit were unrelenting, right up to his death this past August at the age of 96. This edition of Jazz Profiles is a tribute to Waters and his lifelong passion for making music.

Waters grew up in Brighton, MD, the youngest of seven children. As Benny explained, his older brother played an organ, but always locked it up and hid the key. Waters recalled the day he succeeded in his search for that key, and noted, "Something told me I could play." Benny's mother, who was terminally ill, was so moved by his natural ability that she devoted her will to getting him a formal education in music. Waters attended the New England Conservatory of Music, where he gained invaluable training in harmony and composition. Already proficient on the clarinet and saxophone, Waters supported himself by teaching other students on those instruments. After the Conservatory, Waters joined Charlie Johnson's big band, entering the Jazz scene at the height of the roaring 20s. Initially, Waters was influenced by the big tone and fluid harmonic style of saxophonist Coleman Hawkins, whose intimidating presence he encountered on the bandstand. But Waters soon developed his own musical voice and became Johnson's featured soloist on tenor saxophone, in addition to playing alto sax and clarinet, composing and arranging. In 1928, he also recorded with the legendary King Oliver, a founder of the original New Orleans jazz style. Over the next 25 years, Waters played with a number of top big bands, including those of Fletcher Henderson, Hot Lips Page, Claude Hopkins, Jimmie Lunceford and Jimmy Archey. Waters had long been fascinated with the idea of playing in Paris, and left Archey's band after touring in Europe to immerse himself in Paris' thriving post-war jazz scene. Bandleader Jacques Butler recalls how Benny charmed Parisian audiences with his emotional style and astounding technique at clubs like La Cigalle, "I thought he was a genius... he could play with soul and feeling." Waters would also build on his solo career, playing and recording throughout Europe, while remaining an icon of the Paris jazz scene for forty years.
Though his playing remained prolific, Waters' career had become geographically dispersed and the media lost track of him, particularly in the US. Hence, when members of the American jazz community did encounter Benny, it was often an awe-inspiring revelation. Guitarist Howard Alden recalls first hearing Benny play at the Edinburgh Jazz Festival in 1981. Saxophonists David Newman and Jimmy Heath comment on discovering Waters' vigorous style and his unique synthesis of various styles from the entire jazz tradition.
Still going strong at 90, Waters returned to the US, moving to New York in 1992. A car accident and a blinding bout with cataracts were not enough to deter him from once again making his mark stateside. Jazz historian Phil
Schapp recalls Benny's ingenuity in adjusting his playing style to new concepts well into his 90's. Though Waters never received the recognition he deserved in the United
States, his outstanding performances in New York did awaken many more musicians and jazz listeners to his truly legendary credentials. Alden recalls a stunning performance at Birdland in New York in 1997, when, on
his 95th birthday, Waters brought the house down with a youthful burst of energy on the bandstand: "[He was] just playing his ass off. Amazing what playing would do to his whole demeanor."


Credits
The profile of Benny Waters was written and produced by Molly Murphy. Copyright 1999 by National Public Radio, Washington, D.C.