Note:
I'm including this web page on My Site because I believe that my Best Friend Deanna Krantz has accomplished an amazing task and deserves wider recognition and support.
--Ted Unseth
IPAN
India Project for Animals and Nature
from Reverence to Compassion in Action


IPAN provided veterinary services to over a dozen villages and remote tribal settlements with IPAN's 24-hour mobile veterinary clinic/ambulance, fully operational hospital, and permanent animal refuge.
IPAN also prevented much human sickness by controlling the spread of zoonotic diseases, by vaccinating dogs against rabies and treating them for mange and internal parasites. These and other diseases that also afflict peoples' cattle, sheep, and goats, causing great animal suffering, were treated by IPAN's experienced and dedicated staff. This helped villagers and tribal communities whose livelihoods depend significantly upon the health and welfare of their herds and flocks.

IPAN staff could be found at any time of day or night in the jungle or in some village helping deliver a calf, performing a Caesarian operation on a cow by flashlight and firelight, or giving emergency treatment to a pony or buffalo that had been hit by a truck or attacked by a tiger, panther, or pack of dholes or wild dogs. IPAN's veterinary emergency service on many days was like a war-zone triage unit where staff experienced battle fatigue from treating so many animals.
Follow IPAN's jeep on a routine animal treatment call, or post-treatment check-up, and you would see adults and children lining up with other animals -- emaciated calves, sick puppies, sheep and goats with maggot-infested bite wounds -- all needing treatment. Every treatment in the public eye was a lesson in humane education, promoting respect and concern for animals and giving hope to their owners and relief to the creatures themselves. Many animals that IPAN had successfully treated greeted staff in the villages while adults and children stood and watched in quiet amazement and evident gratitude.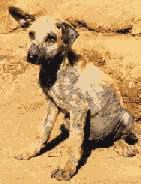 Snapps, before treatment.
As a pup, Snapps was severely afflicted with mange, worms and chronic malnutrition. Six weeks of care at the Sanctuary made a dramatic difference.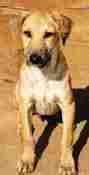 Snapps, one of India's fortunate